A wonderful storage solution!
Give your furry friend a stylish treat with this trendy treat jar. Perfect for pet lovers, the "Hooper" treat jar is a splendid storage solution, whether storing your pet's favorite food or hiding human treats.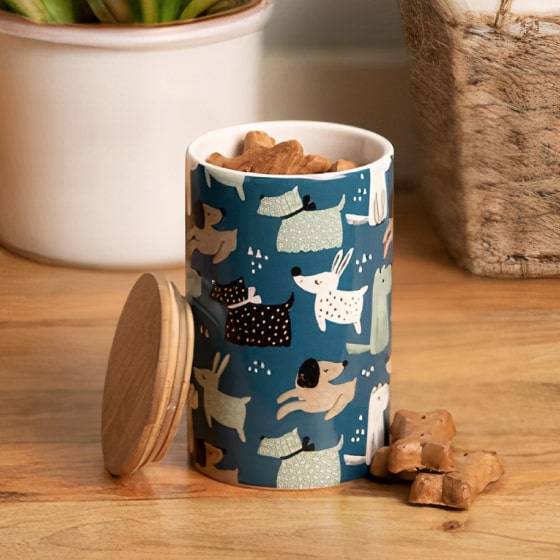 Treat jar features
The jar for all the delicious treats for your pets
Durable materials
Crafted from 100% FDA-approved ceramic, silicone, and sustainably-sourced bamboo; imported.
Vibrant visual design
Vivid, glossy exterior blends your pet's personality with your home's existing decor.
Keeps food dry and fresh
Breathable bamboo lid aerates food, enhancing freshness; airtight silicone seal keeps out moisture, humidity, contaminants, and pests.
Chic storage solution
Measures 6-1/2-inches tall by 4-inches wide with a 32 oz capacity; filled with Fido's favorite food or used to store your own gourmet goodies, like cookies, crackers, coffee, tea, and spices.
Reliable and convenient storage jar
Each colorful container is crafted from heavyweight, FDA-approved ceramic that stands strong against slippage and spills. A breathable bamboo lid and airtight silicone seal keep contents fresh while blocking moisture, contaminants, and pests. Main canister is dishwasher-safe; hand wash the bamboo lid then towel dry.